Art is nothing less than a gift that has given me great happiness. It is one of the most defining points of exactly who I am because it affects every area of my life. Art affects the way I see things, the way I feel about the things that I see, and then it is my reaction to the emotion that dwells in me from my experiences. Art is my communication to all that are interested in receiving the message and understanding.
Early in my childhood I had the desire to capture images of the things I found interesting by drawing them and therefore I had captured the subject as my own in some small way. In those days the subjects usually consisted of simple cartoon characters and things of that nature. Even then it was my goal to capture an exact likeness to the subject and portray it the way I perceived. This is a difficult task, especially for a young artist, but I was very determined to get it right. This effort was not without reward. Whenever someone saw something I drew their reaction was usually,"That is good! Are you going to be an artist when you grow up?" This encouragement was wonderful and helped drive me to improve my art for the pleasure of being able to bring a smile of happiness and sometimes amazement to the face of the viewer. But then, and for many years later, I felt the excitement, escape, and the release of expression that I experienced in my art would be diminished to just being a job if I pursued it as a career. This fear is no longer a presence in my life.
With time I have come to realize art is part of who and what I am, and what I have been called to do. My love for art could not be reduced to merely a job, because being an artist is the way I live life. Being an artist is not a job, a title, or a paycheck. As an artist, I have a deep appreciation for the world around me and all the marvelous things it contains. I am amazed by the majesty God created in all things. I am thankful and filled with thoughts and emotions. As a result, I try to recreate these feelings so that others can see the beauty and grandeur of the world in which we live. My ability is God given and I believe His purpose in giving it was that I would share it and not keep it hidden away. Neither do people light a lamp and put it under a bowl. Instead they put it on its stand and it gives light to everyone in the room. (Matthew 5:15).
As for formal training in art, my story is rather simple, I have none. The only course I have under my belt is a two dimensional art class I attended while in high school. I believe it is safe to say that I am a self-taught artist. The study of art has long been a favorite way to spend my free time. I am continually searching for and experimenting with ways to improve my work. With every new subject my knowledge of art, the world abroad, and myself is elevated to a new level of understanding. Art is a language and I thank you for taking the time to view my web site and see what my work says. Please check back soon for my new works that will be updated regularly. If you have any comments or questions please feel free to contact me.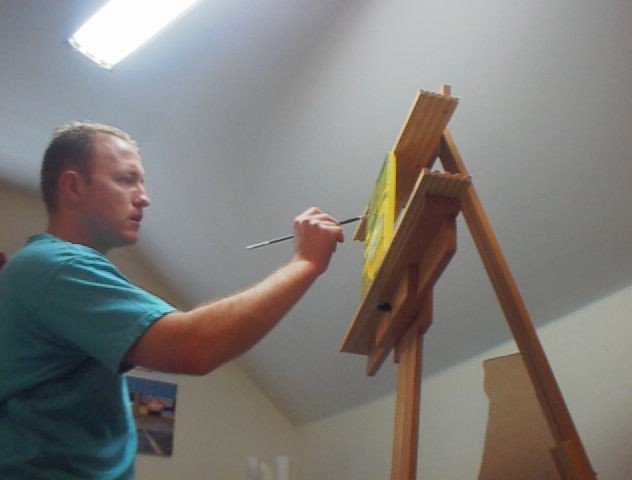 ---
---
Disadvantages of the Internet:
Computers and imaging equipment have made tremendous improvements in visual technology, but as with anything that is reproduced it is not as good as the original. The images on this site are not able to allow you to see the actual detail and exact color as the original art work appears. To say it more simply, nothing compares to seeing something in person. that is why I offer a NO-RISK Guarantee on all my art work. I know that if you like what you see on this web site then you will love what you see when it is delivered to you and hanging on your wall.
---
Attention Art Galleries and Art Wholesalers:
All wholesale inguiries are welcomed. If you are interested in carrying my work as a part of your retail selection please click on the following link.
---

---


Home Page • New Work • Acrylic Paintings • Pencil and Charcoal • Sketchbook

About the Artwork • About the Artist • Painting Exercise • Drawing Exercise

Sign Guest Book • View Guest Book • Questions &amp Comments • Web Links

---

---

All images contained in this site are under copyright &copy protection of the artist Michael English.

Any use of these images without the legal permission of Michael English is unlawful and all violators will be prosecuted.